Indoor FTTH cable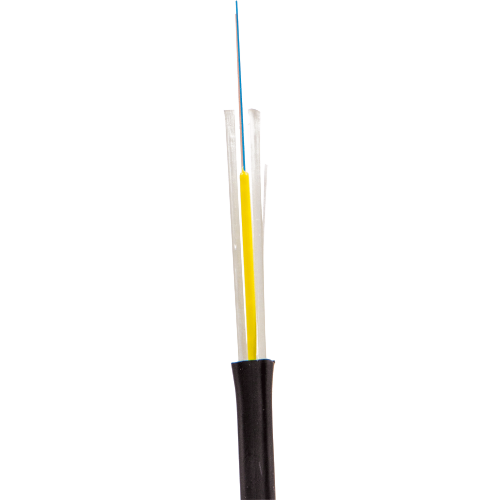 Product Code: LAN-OFC-FIFx-yy-LS
Indoor FTTH cable
Application:
Subscriber cable for FTTH networks, has small size and high flexibility.
Used as a distribution cable for cabling inside buildings, in cable trays, in cable ducts, pipes, and tunnels.
Design: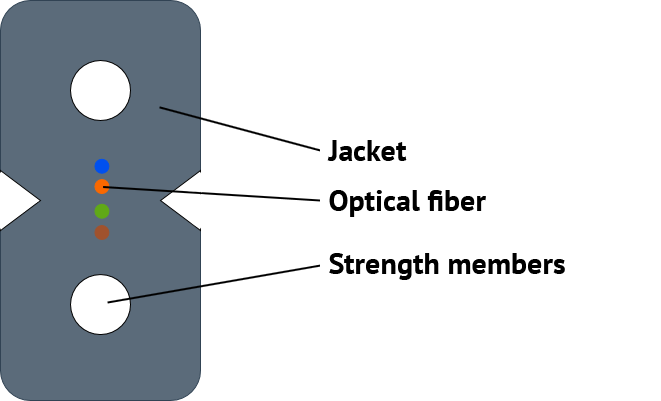 The cable contains multiple optical fibers. Fibers and strength members are covered with jacket. Two strength members provide protection against mechanical stress. The cable jacket is made of a flame retardant halogen-free polymer material with reduced smoke and gas emission.
Color identification of optical fibers:
| | |
| --- | --- |
| № | 1-4 Fibers |
| 1 | Blue |
| 2 | Orange |
| 3 | Green |
| 4 | Brown |
Weight and dimensions:
| | | |
| --- | --- | --- |
| Fiber count in the cable | Cable outer dimensions, mm | Cable weight, kg/km |
| 1 | 2 х 3 | 13,5 |
| 2 | 2 х 4 | 13,5 |
| 4 | 2 х 4 | 13,5 |
Operating conditions:
Temperature range(℃)
Installation
-10°С…+60°С
Storage
-20°С…+60°С
Operating
-20°С…+60°С
Operating
25 years
Physical specifications:
№
Specification
Value
1
Maximum pulling tension
Short term impact
80 N
2
Maximum crush resistance
Short term impact
1000 (N/100mm)
| | |
| --- | --- |
| Product code | Description |
| LAN-OFC-FIFx-yy-LS | Indoor FTTH Drop cable, flat, FRP, LSZH, x fibers, SM G657/ OM1/OM2/OM3/OM4, white |
F- FRP strength members (Fiberglass-Reinforced Plastic rods)
x– fiber count
yy – fiber type (SU, S2, S5, S7, M1, M2, M3, M4)
Applicable optical fibers:
| | |
| --- | --- |
| SU | Single-mode fiber with extended operating wavelength and reduced attenuation and low bending loss (ITU G.652D+G.657.A1 recommendation) |
| S2 | Single-mode fiber with an extended bandwidth of operating wavelengths (ITU-T G.652D recommendation) |
| S5 | Single-mode positive non-zero dispersion shifted fiber (ITU-T G.655 recommendation) |
| S7 | Single-mode with low bending loss (ITU-T G.657 recommendation) |
| M1 | Multi-mode with core to cladding ratio 62,5/125 μm (IEC 60793-2-10 A1b type recommendation) |
| M2 | Multi-mode with core to cladding ratio 50/125 μm (ITU-T G.651 recommendation and IEC 60793-2-10 type A1a.1 requirements) |
| M3 | Multi-mode with low bending loss and core to cladding ratio 50/125 μm (ITU-T G.651 recommendation and IEC 60793-2-10 A1a.2 type requirements) |
| M4 | Multi-mode with low bending loss and core to cladding ratio 50/125 μm (ITU-T G.651 recommendation and IEC 60793-2-10 A1a.3 type requirements) |