LANMASTER patch panels with indicators
A smart and hassle free port identification solution
Any network installation and operation rules will ask you to provide for cable marking and cable logs, and to keep them updated. Trivial as they are, these tasks may often cause trouble in practice. Any marking may deteriorate with time and become illegible, while IT personnel tend to be forgetful about cable logs.
This is why you will have to use a cable tester or a tone generator for such operations as connecting a new workstation. This is obviously not the quickest and easiest way.
LANMASTER PPI LED patch panels are an excellent port identification solution, especially for small and medium structured cable systems. With this in mind, the end-to-end solution is still very affordable.

LED Patch Panels offer easy port identification. Each port has a LED which indicates the panel port connection status when a transmitter is connected. To display the connection status, you will need the LAN-PPi-CHKTOOL transmitter.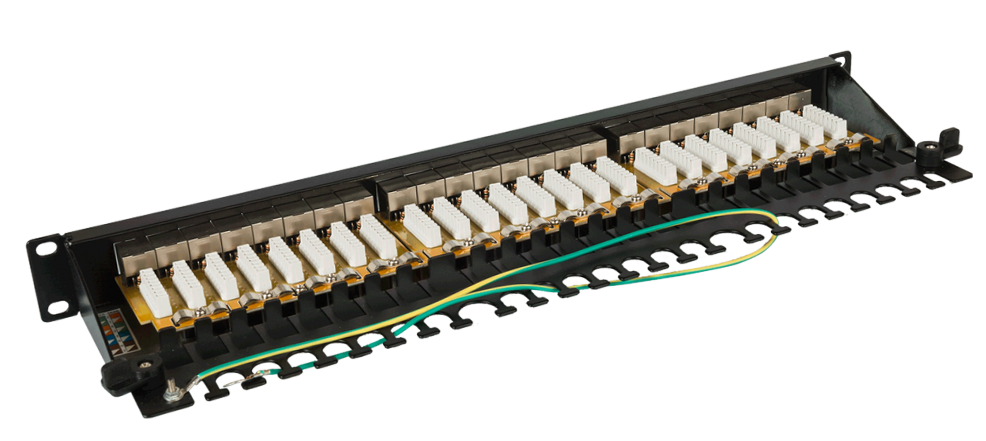 LANMASTER PPI patch panels
Service cable connections are IDC-based. Panel terminals are multi-purpose, and allow for cable connection using both tools for 110-blocks and for Krone connectors.
For easy connection, back panel surface features T568B/T568A wire colors opposite IDC contacts of each port.
Features:
Complies with NSI/TIA-568-C.2, ISO/IEC 11801 Ed.2 and EN 50173-1
LED status (green/red) for online identification
8 groups of standard RJ-45 ports
Product code
Name


LAN-PPi24S5E
LANMASTER patch panel, 24 ports, LED, STP, cat. 5e, 1U

Добавить в список

LAN-PPi24S6
LANMASTER patch panel, 24 ports, LED, STP, cat. 6, 1U

Добавить в список

LAN-PPi24U5E
LANMASTER patch panel, 24 ports, LED, UTP, cat. 5e, 1U

Добавить в список

LAN-PPi24U6
LANMASTER patch panels, 24 ports, LED, UTP, cat. 6, 1U

Добавить в список
Signal generator
To display the connection status, you will need a transmitter.
Using a patch cord, connect a signal generator to the subscriber outlet port for connection traceability. Identify the status on the panel port which corresponds to the outlet port in question.
Green LED: panel port is connected to the subscriber outlet host module in question.
Red LED: panel is connected to the outlet information port. Port panel is interconnected with active network equipment (router or switch).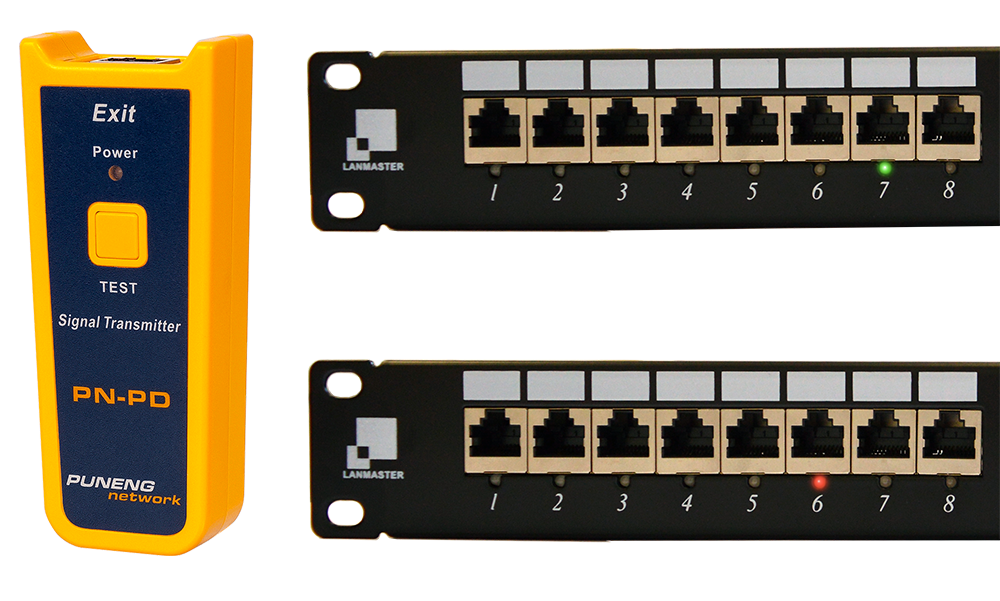 The device also has a LED displaying the outlet status. If the outlet port is interconnected with the panel, the generator LED will be red. Therefore, when you have a look at the subscriber outlet, you will see that it is connected to active equipment in the server room.
Signal generators have three generation modes, continuous, intermittent or triggered. This enables unassisted tracking of network cabling.