LANMASTER field terminated optical connector, SC/UPC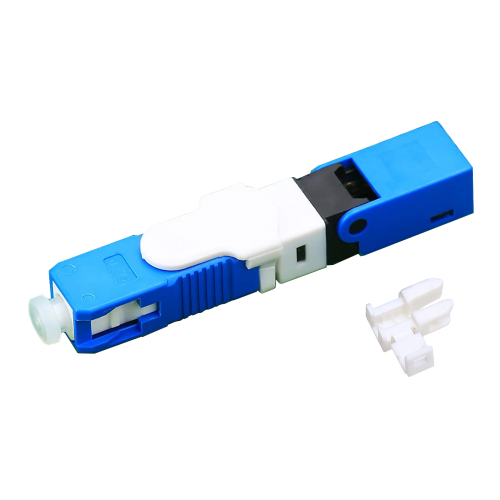 Product Code: LAN-FMC-SC/UPC
LANMASTER field terminated optical connector, SC/UPC
Field terminated optical connectors allow fast connection of single-mode optic fibers used in FTTH networks. The connector is installed on an optic fiber without the use of a splice machine and does not require polishing of the end of the ferrule.
The connector is a pre-assembled appliance. A piece of optic fiber polished at the factory is glued into the ceramic ferrule. A cleaved fiber is inserted from the back of the connector and fixed mechanically. The cavity at the junction of the fibers is filled with immersion gel. The refractive index of the immersion gel is close to the refractive index of the core of the optic fiber, due to which the transmission of the optical signal is carried out with minimal losses at the interface.
Field installed connectors are recommended as a temporary solution; when working with mechanical connectors, you should monitor the quality of fiber cleavage.
Характеристики:

| | |
| --- | --- |
| Cable Scope | 3.0 x 2.0 mm |
| Size | 51*9*7.55mm |
| Fiber Diameter | 125μm ( 652 & 657 ) |
| Coating Diameter | 250μm |
| Mode | SM |
| Operation Time | about 15s(exclude fiber presetting) |
| Insertion Loss | ≤ 0.3dB(1310nm & 1550nm) |
| Return Loss | ≤ -50dB |
| Success Rate | >98% |
| Reusable Times | >5 times |
| Tighten Strength of Naked Fiber | >5 N |
| Tensile Strength | >30 N |
| Temperature | -40 ~ +85 C |
| On-line Tensile Strength Test (20 N) | IL ≤ 0.3dB |
| Mechanical Durability(500 times) | IL ≤ 0.3dB |
| Drop Test(4m concrete floor, once each direction, three timestotal) | IL ≤ 0.3dB |