TWT UTP cable, 4 pair, cat. 5е, LSZH, universal, with steel messenger, 305 m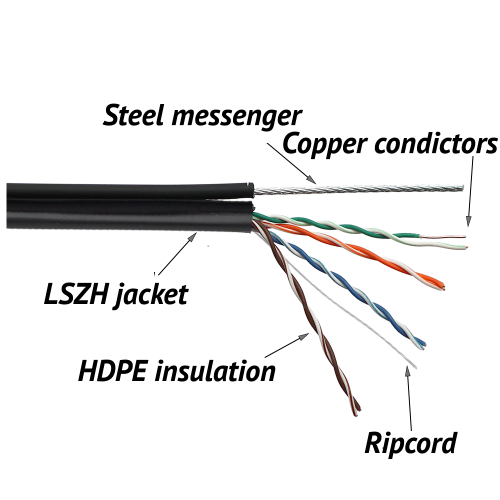 Product Code: TWT-5EUTP-UNV-TR
TWT UTP cable, 4 pair, cat. 5е, LSZH, universal, with steel messenger, 305 m
The cable is designed for indoor and outdoor use. The jacket made of LSZH (low-smoke zero halogen) polymer which protects the cable from external damage, does not degrade under the solar radiation and allows the cable to be used in the temperature range from -40°С to +60°С.
The four-pair UTP cable has the following design:
Conductor is 24AWG solid copper wire insulated with HDPE (high density polyethylene).
Two conductors make up one twisted pair, in general, the cable consists of four pairs which twisted with specially selected different step.
The steel messenger comprises 7 steel wires, each wire has 0.5 mm diameter. The messenger jacket forms «8» with the cable jacket.
The cable with the messenger is designed for aerial installation.
The cable jacket has per meter sequential length marks.
Specification

Value

Jacket color
Black
Jacket Material
LSZH (low smoke zero halogen)
Insulation Material
HDPE (high density polyethylene)
Conductor Diameter
24 AWG
Conductor Type
Solid
Jacket Diameter
(5.2х2.7) ± 0.3 mm
Operating Temperature Range
from -40°С to +60°С
Cable Length per Box
305 m
NVP at 100 MHz
69%
Frequency Band
1-100 MHz
Conforms to standards TIA/EIA 568-С.2; ISO/IEC 11801; EN 50173
The cable has better transmission characteristics then defined in standards for 1-100 MHz frequency band.