Keystone module, RJ45, category 6, UTP, 90 degrees, with built-in shutter, white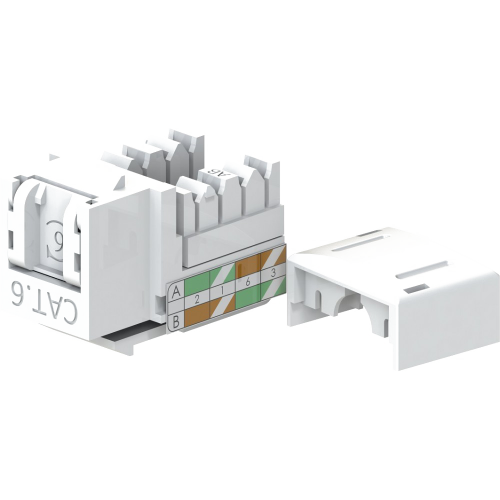 Product Code: LAN-OK45U6/90P-WH
Keystone module, RJ45, category 6, UTP, 90 degrees, with built-in shutter, white
The module can be used to complete unshielded telecommunication sockets installed in wall trunks, in a wall box, also for installation in modular patch panels (see the compatibility items).
Category 6 compliant.
The module has a standard Keystone form-factor and can be used not only in LANMASTER socket adapters, but also in socket adapters from other manufacturers.
There is an eight-pin RJ-45 socket on the front side of the module, and there is a block for eight contacts of the IDC110 type on the back side, located at an angle of 90˚ to the front surface of the module.
The insulation displacement contact method is used (IDC) to terminate incoming cable.
There is a wiring diagram for the cable conductors between the IDC pins in accordance with the T568A and T568B wire map for ease of installation.
The module is equipped with a protective insert that provides additional fixation of cable conductors terminated in IDC block and prevents the conductors from being pulled out when the cable is overstretched.
The module has a built-in shutter that is automatically recessed when a patch cord inserts in the module. The shutter protects the module contacts from dust, dirt and mechanical damage when using the module in modular patch panels or with faceplates that do not have their own protective shutters.