SFP SX 0.55km module, MM, dual core, 1.25 Gbps, duplex LC, DDM, Cisco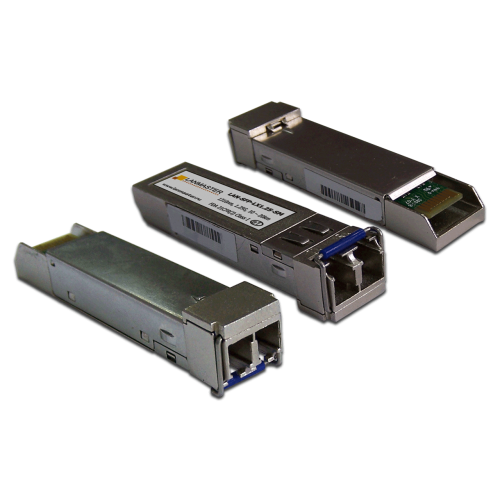 Product Code: LAN-SFP-SX1.25-MM
SFP SX 0.55km module, MM, dual core, 1.25 Gbps, duplex LC, DDM, Cisco
Module for operation over two optical fibers in SFP format for Gigabit Ethernet (1000Base-SX). Designed to work on multimode optical fiber (MMF), maximum range is 550 m (fiber 50/125 µm), optical budget is 8dBm, LC connectors, working wavelength is 850 nm.
SFP modules support hot-swap mode and can have DDM (Digital Diagnostic Monitoring) function, with which you can monitor various parameters of the module in real time.
The software of the modules supports interoperability with equipment of different brands, depending on the selected firmware version.
Key features:
Speed up to 1.25 Gbps
Hot-swap (hot-pluggable)
Duplex LC connector
Data transmission distance up to 550 m over 50/125 µm MM
850nm VCSEL transmitter
Powered by 3.3 V
Monitoring interface compatible with SFF-8472
Low heat dissipation <1 W
Available versions for an expanded operating temperature range Industrial/Extended/Commercial: -40°C to 85°C / -5°C to 85°C / 0°C to 70°C
RoHS Compliant and Lead Free
Applications:
Access and backbone networks
1.25 Gbps 1000Base-SX
1xFiber Channel
Various optical connections