LANMASTER UTP patch cord cable, 4x2, cat. 6, 550 MHz, PVC, 305 m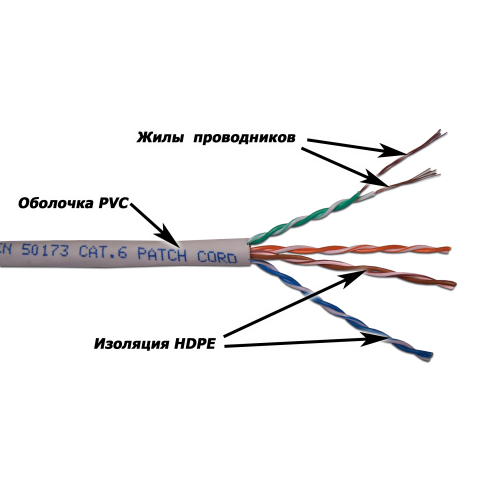 Product Code: LAN-6EUTP-PT-xx
LANMASTER UTP patch cord cable, 4x2, cat. 6, 550 MHz, PVC, 305 m
The cable consists of 4 pairs of stranded copper conductors.
The diameter of the conductor is 24AWG.
Each conductor is protected with HDPE (high density polyethylene) insulation.

Two conductors stranded with a specially selected step make up one twisted pair.
4 twisted pairs are wrapped with a PVC jacket.
Jacket color options:

White
Gray
Yellow
Orange
Green
Red
Blue
Brown
Black
Modern high-speed networks' requirements are very high regarding cable management system.
Therefore, it cannot be used without patch cords of various colors.
The color identification of patch cords is very effective regarding a multiport system management.
Professional system administrators have been using the principle of connecting different types of equipment for a long time, including the equipment serving different user groups, or from different floors, with patch cords of their color.
Thus, it saves your time for connecting and switching users and minimizing the downtime of high-speed networks.
Characteristic of the cable:
Characteristic
Value
Type of conductor
Stranded
Conductor Diameter
24 AWG
Insulation Type
HDPE (High Density Polyethylene)
Outer jacket

PVC (Polyvinil Chloride)

Cable diameter
5.4 mm
Impedance
100 ± 15 Ohm
Mutual Capacitance
17.1 nF / 1000 ft
DC Resistance
28.6 ohm / 1000 ft
DC Resistance Unbalance of a pair
5%
Capacitance Unbalance pair to Ground
330 pF / 100m
Propagation Delay Skew
45 nS / 100m
Nomal velocity propagation
69%
Attenuation to crosstalk ratio
at 100 MHz std 28.5 dB
at 150 MHz std 20.4 dB
at 300 MHz std 4.8 dB
Certified by the laboratory
3P and ETL Certified
Complies with
UL444, TIA-568-C.2, ISO/IEC 11801 CAT 6; 2002/95/EC(RoHS)
Meters in box
305 m
Color coding
Pair 1 "blue/white-blue";
Pair 2 "orange/white-orange";
Pair 3 "green/white-green";
Pair 4 "brown/white-brown".
Cable transfer characteristics:
ITEM(dB)
ILMAX. (dB/100m)
NEXT MIN. (dB)
ACR MIN. (dB)
PS.NEXT MIN.(dB)
PS.ACR MIN.(dB)
ACRF MIN. (dB/100m)
PS.ACRF MIN.(dB/100m)
R.L. MIN. (dB)
Frequency(MHz)
1
2.4
74.3
71.9
72.3
69.9
67.8
64.8
20.0
4
4.6
65.3
60.7
63.3
58.7
55.7
52.7
23.0
8
6.4
60.8
54.4
58.8
52.4
49.7
46.7
24.5
10
7.2
59.3
52.1
57.3
50.1
47.8
44.8
25.0
16
9.1
56.3
47.2
54.3
45.2
43.7
40.7
25.0
20
10.2
54.8
44.6
52.8
42.6
41.7
38.7
25.0
25
11.4
53.3
41.9
51.3
39.9
39.8
36.8
24.2
31.25
12.8
51.9
39.1
49.9
37.1
37.9
34.9
23.3
62.5
18.5
47.4
28.9
45.1
26.9
31.8
28.8
20.7
100
23.8
44.3
20.5
42.3
18.5
27.8
24.8
19.0
155
30.2
41.5
11.3
39.5
9.3
23.9
20.9
17.4
200
34.8
39.8
5.0
37.8
3.0
21.7
18.7
16.4
250
39.3
38.3
0
36.3
0
19.8
16.8
15.6
300
43.7
37.2
NA
35.2
NA
18.3
15.3
14.9
400
51.6
35.3
NA
33.3
NA
15.8
12.8
13.8
500
58.7
33.8
NA
31.8
NA
13.8
10.8
13.0
550
62.2
33.2
NA
31.2
NA
13.0
10.0
12.6