LANMASTER SFTP cable, 4 pairs, cat. 5E, 100 MHz, PVC, 305 m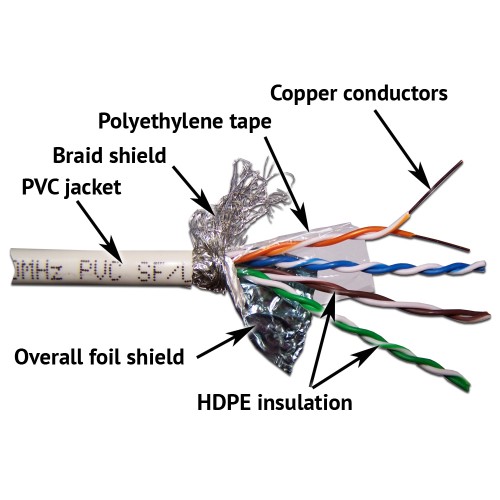 Product Code: LAN-5ESFTP-xx
LANMASTER SFTP cable, 4 pairs, cat. 5E, 100 MHz, PVC, 305 m
The cable consists of 4 pairs of solid copper conductors.
The diameter of the conductor is 24 AWG.
Each conductor is protected with HDPE (high density polyethylene) insulation.
Two conductors stranded with a specially selected step make up one twisted pair.
The pairs are separated from each other by a cross-shaped partition increasing the transient attenuation between the pairs.
4 twisted pairs and a partition are wrapped in a common foil screen, and then in a wire braid. The outer layer is a PVC jacket.
Characteristic of the cable:
Value
Type of conductor
Solid
Conductor Diameter
24 AWG
Insulation Type
HDPE (High Density Polyethylene)
Type of sheath
PVC (Polyvinyl Chloride)
Sheath color
White
Cable diameter
6,5 mm
Impedance
100 ± 15 Ohm
Mutual Capacitance
17.1 nF/1000Ft
DC Resistance
28.6 Ohm/1000Ft

DC Resistance Unbalance of a pair
5%
Capacitance Unbalance pair to Ground
330 pF / 100 m
Propagation Delay Skew
35 nS / 100 m
Nominal velocity propagation
71%
Certified by the laboratory
3P and ETL Certified
Complies with
UL444,1581; ISO/IEC 11801; EN50173-1; TIA-568-C.2 CAT 5E
Meters in a box
305 m
Color coding
Pair 1 "blue/white-blue";
Pair 2 "orange/white-orange";
Pair 3 "green/white-green";
Pair 4 "brown/white-brown".
Cable transfer characteristics:
Frequency
(MHz)
Attenuation
(dB /100 m)
NEXT
(dB)
ACR
(dB)
PS.NEXT
(dB)
PS.ACR
(dB)
ELFEXT
(dB)
PS.ELFEXT
(dB)
Return Loss
(dB)
1
2.0
65.3
63.3
62.3
60.3
63.8
60.8
20.0
4
4.1
56.3
52.2
53.3
49.2
51.7
48.7
23.0
8
5.8
51.8
46.0
48.8
43.0
45.7
42.7
24.5
10
6.5
50.3
43.8
47.3
40.8
43.8
40.8
25
16
8.2
47.3
39.1
44.3
36.1
39.7
36.7
25.0
20
9.3
45.8
36.5
42.8
33.5
37.8
34.8
25.0
25
10.4
44.3
33.9
41.3
30.9
35.8
32.8
24.3
31.25
11.7
42.9
31.2
39.9
28.2
33.9
30.9
23.6
62.5
17.0
38.4
21.4
35.4
18.4
27.8
24.8
21.5
100
22.0
35.3
13.3
32.3
10.3
23.8
20.8
20.1