LANMASTER UTP cable, 4x2, cat. 5E, 350 MHz, PVC, 305 m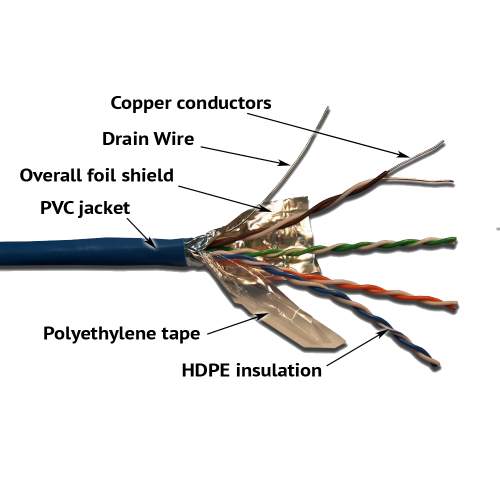 Product Code: LAN-5EFTP-xx
LANMASTER UTP cable, 4x2, cat. 5E, 350 MHz, PVC, 305 m
The cable consists of 4 pairs of single copper conductors.
The diameter of the conductor is 24AWG.
Each conductor is protected with HDPE (high density polyethylene) insulation.
Two conductors stranded with a specially selected step make up one twisted pair.
4 twisted pairs wrapped in polyethylene film and together with a solid copper grounding conductor are enclosed in a common foil screen and PVC jacket.
Characteristic of the cable:
Characteristic
Value
Type of conductor
Solid
Conductor Diameter
24 AWG
Insulation Type
HDPE (High Density Polyethylene)
Outer jacket
PVC (Polyvinyl Chloride)
Cable diameter
6,1 mm
Impedance
100 ± 15 Ohm
Mutual Capacitance
17.1 nF / 1000 ft
DC Resistance
28.6 ohm / 1000 ft
DC Resistance Unbalance of a pair
5%
Capacitance Unbalance pair to Ground
330 pF / 100 m
Propagation Delay Skew
35 nS / 100 m
Nominal velocity propagation
71%
Attenuation to crosstalk ratio
at 100 MHz min. 11.9 dB std 15.9 dB
at 155 MHz min. 1.8 dB std 5.8 dB
Certified by the laboratory
3P and ETL Certified
Complies with
UL444,1581; ISO/IEC 11801; EN50173-1; TIA-568-C.2 CAT 5e
Meters in a box
305 m
Color coding
Pair 1 "blue/white-blue";
Pair 2 "orange/white-orange";
Pair 3 "green/white-green";
Pair 4 "brown/white-brown".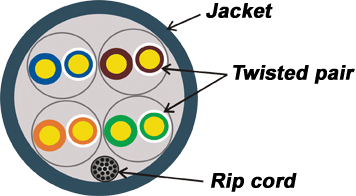 Cable transfer characteristics:
Frequency
(MHz)
Attenuation
(dB)
NEXT
(dB)
ACR
(dB)
PS.NEXT
(dB)
PS.ACR
(dB)
ELFEXT
(dB)
PS.ELFEXT
(dB)
Return Loss
(dB)
1
2.4
68.3
65.9
66.3
63.9
63.8
60.8
20
4
4.9
59.3
54.4
57.3
52.4
51.7
48.7
23
8
6.9
54.8
47.9
52.8
45.9
45.7
42.7
24.5
10
7.8
53.3
45.5
51.3
43.5
43.8
40.8
25
16
9.8
50.3
40.5
48.3
38.5
39.7
36.7
25
20
11.2
48.8
37.6
46.8
35.6
37.8
34.8
25
25
12.5
47.3
34.8
45.3
32.8
35.8
32.8
24.2
31.25
14
45.9
31.9
43.9
29.9
33.9
30.9
23.3
62.5
20.4
41.4
21
39.4
19
27.8
24.8
20.7
100
26.4
38.3
11.9
36.3
9.9
23.8
20.8
19
155
33.7
35.5
1.8
33.5
0
20
17
17.4
200
38.9
33.8
-/-
31.8
-/-
17.7
14.7
16.4